I'm working on some scrapbooking pages and I wanted to add some crocheted flowers as embellishments. I was searching on the internet for a flower pattern for a violet and I couldn't find one that I liked! So I whipped this one up. If you find any errors please let me know! Sorry for the bad quality of the pic, I couldn't find my cord to my camera so I used my cell phone!

I used the following materials, but, you can sub out any that you like.

*****PLEASE REMEMBER THIS IS ONLY FOR PERSONAL USE. I DO NOT MIND YOU SELLING PRODUCTS USING THIS PATTERN, BUT DO NOT CALL IT YOUR OWN! THANKS!! ******

Little Violet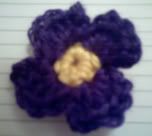 Hook: Aluminum size G
Yarn: Simply soft Brites! in yellow and purple

Finished size is about 2 inches across

Pattern:

CENTER:
- With yellow, Ch 4. Join with sl st to first ch to form loop.
- 7 SC into loop, join with sl st to first SC. Fasten off.

Petals:
-Join purple yarn to any st. * (Ch 4, 3 DC, HDC, SC) in next st. Skip next st, slip stitch into next st * 4 times.
-Join with sl st to first ch and fasten off.